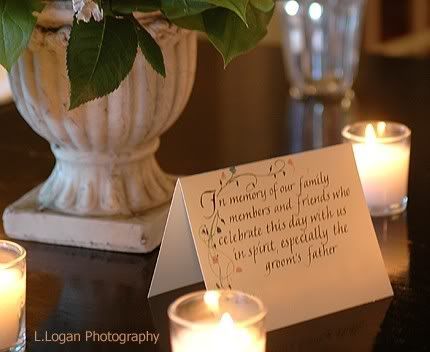 One of the bittersweet things about weddings is there are often people who we are missing very much on that day. You want to remember them but at the same time it is a day of celebration, not mourning. It's hard to find that special something to do in honor of them without bringing out too many sad emotions. Here are some ideas to help you remember those who are celebrating with you that day in spirit.
~A few words in your wedding programs - if you are having a wedding program, you can put a small section in to remember those who are no longer with us.
~A memorial table - some people do a floral arrangement or a candle with a small sign dedicated to those who have passed. Some even include a photo/photos of that person.
~Attaching something personal to your bouquet - this has become very popular with brides putting a small framed photo, a handkerchief, or a brooch, etc. on their bouquet to have that person "with them"
~Wear a piece of jewelry - wearing a nice piece of jewelry that belonged to that person can be a special way of honoring them on your wedding day.
~For the Groom - they sell photo cufflinks where you can insert photos; this is a nice thing for a groom to wear if he wants to honor someone personally (and also makes a nice gift to a groom from a bride).
~Dedicate a song - is there a special song that person loved? Play and have the DJ let everyone know that this song is dedicated to the memory of them.



Our bride Kelly had a beautiful photo of her father on her bouquet
(Photos by Lorelei)