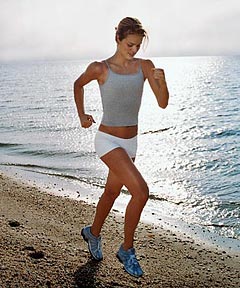 Is your New Year's resolution to lose weight before your big day? Many of us have that resolution regardless of whether or not we are getting married in the near future, however it seems to go into full force in those months before a big event like a wedding. Here are some tips from WeddingChannel and InStyle Magazine on how to get in shape the healthy way:
"
The formula for weight loss is a simple one: Calories burned must exceed calories consumed. So it makes sense that the best way to begin your new lifestyle is by shaping up your diet. To keep your energy level high enough to plan your wedding, choose a safe, healthy eating plan that targets a loss of 1 to 2 pounds a week, which, for most of us, means consuming about 1200 calories a day. If you have a significant amount of weight to lose before the wedding -- say 20 pounds -- you'll need to start your diet between 5 and 6 months before the big day.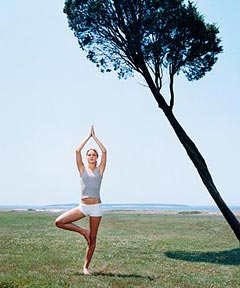 But because you want to lose fat weight -- not just body weight -- keeping your calorie intake hovering at 1
200 isn't your only concern. Here's why: According to fitness expert William D. McArdle, PhD and Professor Emeritus at the Department of Family, Nutrition and Exercise Science at Queens College at CUNY, when you diet without exercising, your body uses lean muscle mass for energy. But if you add exercise to your daily routine, your body will turn to those pesky fat stores for fuel."

Wedding Channel gives some ideas on how to the "fat weight" in a safe way -- not crash diets or psycho workout regimens. Here is a summary:

1. Cardio exercises like swimming, running, biking, etc. should be done at 15 minute increments starting at 3 times a week. As your endurance improves, you can increase the time.
2. Stretching is important before and after workout sessions because it improves your overall fitness.
3. Add a multivitamin to your diet of lean meats, vegetables, fruits, and dairies, because when you start exercising, your body will start to crave more nutrients and this is a way to offset that without taking in more calories or binge eating.

InStyle Magazine also created an "Ultimate Bridal Workout" schedule:


Repeat this routine each week for a total of four weeks.
Monday to Friday: Cardio
Begin with a five-minute warm-up, followed by stretching. Then choose one of these: power walking, jogging, spinning or any cardio class or machine. Alternate activities each day, and do what you enjoy so you'll stick with it. Beginners should continue moving at their target heart rate for 20 minutes; intermediates, for 45 minutes; and advanced exercisers, for up to 60 minutes. End with a five-minute walk and more stretches.
Saturday: Yoga
You can take a class or do it at home with DVDs such as Jenkins's
The Hollywood Trainer Yoga
($20;
thehollywoodtrainer.com
).
Sunday: Spa day
Reward yourself with a manicure, a massage, a facial or a bubble bath. Really! A day of rest lets your muscles get stronger and helps prevent injuries that might throw you off schedule later.
These are all great tips, but if you are like many women, it is difficult to get motivated and commit to working out. So here are a few of my own personal tips on getting back in shape.



~Set realistic goals of how much weight you want to lose and when.

~Do not weigh yourself more than once a week, and in the beginning, do not weigh yourself at all! Remember, muscle weighs more than fat, so if you are gaining muscle and getting rid of fat, you might not notice a weight difference on a scale for awhile.

~Take classes at the gym for your cardio. Most gyms offer classes that are about an hour long. This will force you to stay the entire time instead of cutting a workout short if you were doing it alone. It is also fun, relaxing, and social, which you need when you are planning a wedding and full of stress!

~Switch it up. Break up the monotony of doing the same cardio or exercising every day. Maybe one day take a spinning class, the next day a yoga class, and the following day go for a swim.


Good luck, you can do it!


To view the entire WeddingChannel Article, "Wedding Dress Shape-Up", click here.
To view the entire InStyle Magazine Article, "Ultimate Bridal Workout", click here.


photos from InStyle Magazine