When choosing a bridal look, a very important part can be not what you are wearing on your body, but what you are wearing on your head. Headpieces can really set the tone for your entire style, and there is such a huge variety out there right now. Are you looking for something bold and modern like a brightly colored headband? Or are you more of the traditional type, with a veil and tiara. Do you want something with a wow factor, such as a cathedral veil that trails way past your train? Or maybe something short, sweet, and vintage, like a birdcage veil. Don't forget, you can always wear multiple pieces as well, like wearing a long mantilla veil for your ceremony and switching it out for a funky flower during your reception. Here are some of our favorite styles, and info on where you can find them in your budget!
The vintage bride... Lele Photography (Hi girls!) out in St. Louis captured this beautiful image of a bride with a vintage style headpiece with birdcage veil. Want something like it? Check out
VelvetOwl's etsy store
for custom pieces - average prices $60-$75.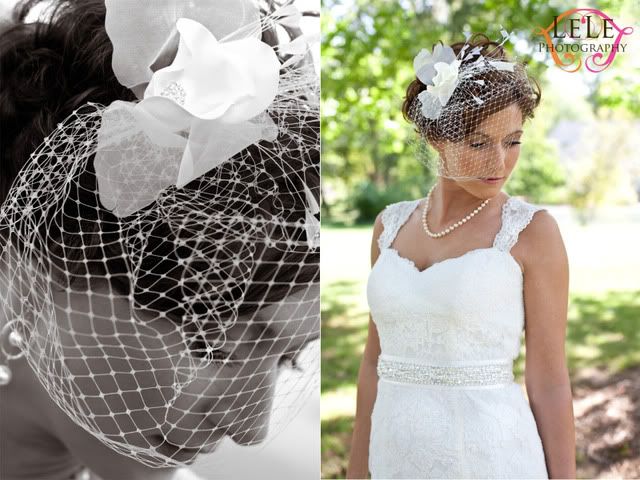 The bold bride... Another one of our favorite photographers,
Carolina Araujo
, did an amazing bridal session with this bold and moder
n style bride who is wearing a black headband. This went with the black sash on her dress, which you can't see in this photo. But who says you need to match anyway? It's your wedding day, so if you want to wear a brightly colored headband and add a splash of color, go for it! Want this look? Check out Forever21.com -- this headband with feathers and beads is $4.80, you can't beat that price!
For the bride that wants bling... Tiara's bring that classic princess style that many women envision as their bridal look. It can be paired with or without a veil, and there are so many different styles these days as well as sizes. Our friends at
Limelight Photography
shot this gorgeous picture that showcases a beautiful bride and her bling'in headpiece. Want this look? Check out
AdvantageBridal.c
om
- they have a huge selection, with many priced under $100.00. They also have combs and smaller pieces if you decide a tiara isn't your style but you do want some sparkle!
The natural bride... Not all brides want the bling, but they still want something elegant, classy, and unique. Maybe you are planning a beach or garden wedding, or just have a love for nature and the outdoors. A natural flower in your hair may be the way to go. Not only is it beautiful, but it is very affordable! Just ask your florist which flowers hold up best in hairstyles (our brides have used mums, orchids, and roses, to name a few). With flowers being only a few dollars a stem, this is a very reasonable way to make a style statement. In this photo by
Jason Angelini
, our bride Kristen is wearing a larger, white mum in her hair which we picked up from the local grocery store.
The traditional bride... They say the veil makes you really feel like a bride. I think getting married makes you really feel like a bride. Ok, so I wore a veil and it felt awesome when I put it on. But I took it off for the reception and had a little bling in my hair, and I still felt wonderful. So I think it's all personal preference. If you think you are a veil-type-of bride, then you have a lot more decisions to make ahead of you -- length (short, fingertip, cathedral??), style (mantilla, beaded, blusher??), color (white, ivory, polka-dotted??) -- you get the picture. And this picture is from Joelle of
Socialite Studios
, showing how veils can enhance your wedding photos with their free flowing beauty. Want this look? Check out
Delicate Spirits
on ebay, with a huge selection and great prices as well as perfect ratings from other buyers.