I felt really special yesterday when I received a beautiful potted rosebush delivered to me with a card, saying..
Dear Shawna,
Donnie and I are getting married exactly one year from today and I would be honored if you would be a bridesmaid.
Love, Natalie
I was very touched by not only being asked to be a bridesmaid in my friend's wedding, but also this thoughtful gift that hopefully I can keep for many years to come.
When asking someone to be a bridesmaid, you can obviously just talk to them about it in person, take them out to dinner, or call them on the phone... or you can have fun with it and be a little more creative. Here are a few ideas on how to ask your special friends in life to stand up with you on your big day.
Bri
d
es
ma
i
d cookie
s
- For the foodie bridesmaid, these bridesmaid cookies from
www.advantagebridal.com
have a beautiful personalized poem and after you read it, you can eat it! They are only $10.00 and perfect for your bridesmaid with a sweet tooth~ :)
The Ugly Bridesmaid Card
- If you google "ugly bridesmaid dresses", a plethora of unfortunate bridesmaid style choices come up. If you are skilled at photoshop, you can add your own bridesmaids' faces to these photos and then print them into cards at your local photolab. Of course don't forget to write in the card, I promise I won't make you wear a dress like this. Will you be my bridesmaid?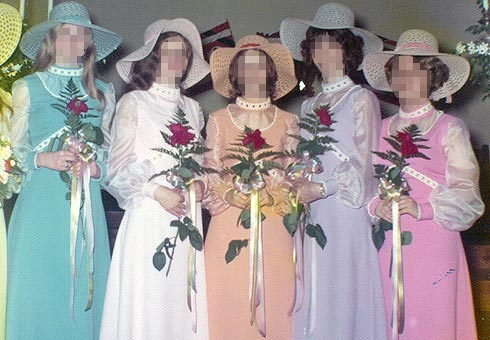 Friendship Photobook
-- For the sentimental bridesmaid, create a photobook of memories from your friendship together. With sites like
shutterfly.com
, for just $12.95 you can create a photobook with text as well as photos. Consider putting a quote about friendship on each page, and at the end of the book, say "Thank you for being there for me all of these years. Will you be there for me once more by being a bridesmaid in my wedding?"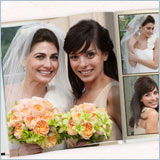 Bridesmaid Bling
-- For your glamorous bridesmaid to be, send her this Tiffany's box complete with diamond paperweight. Diamonds are a girls best friend, and they can also be for a girl's best friend... find them at
www.favorsbyserendipity.com
for only $9.95.